I will start this post off by stating "I am not a fan of showers." There. I said it. When I got married and my sisters threw me a shower, I asked that we all meet at the Pasadena Swap Meet where everyone had twenty bucks to find me  something as a shower gift. We would all meet up in three hours back at my house, drink wine, and see who found the weirdest item!
Needless to say, it rained. No swap meet. Just wine:)
I don't know why I hate showers so much. I just don't like playing silly games, cooing over gifts, sitting around chatting about getting married or having babies. I think I am missing a gene, the same gene that makes women want to have clean houses, have matching cutlery, use air freshener, and bake. I watch commercials where the woman of the house is so concerned about stains, spills, smelly rooms, etc. and I can only think "why don't the men ever worry about this stuff?" I don't get it. Anyway, I digress.
Please understand, I am not against these things, I just don't like doing them. I am happy for my friends when they throw showers and do not hold it against them. And so….I can't believe that I am doing this……BUT
         I                       AM                        HAVING                    A                              SHOWER!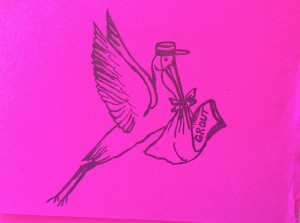 Yes, folks, a shower. I figured since I am on an ARTernity Leave, I needed to have a shower. This year is about giving birth to community based projects and the first one is the Echo Park "Healthy Foods" mosaic, so I figured I better have a shower to welcome the 40 foot "tiled ball of joy" into the world. On December 6th from noon to 5:00 (pop in any time) we will gather at my house to celebrate, however there will be no poopy diaper games or toilet paper dresses to be made, but we WILL be making tiles for the mosaic and eating delicious cake. There will be chili, vegan soup, salad, wine, coffee, not just cake.
A big thank you goes out to my friend, Nicole, who is helping me with the shower. I tried to register at Home Depot, but alas, Home Depot does not have any online registries. While I was looking for information on Home Depot, I came across a wedding website that stated "And for the man of the house, Home Depot offers and in-store registry." Ummmmmmm, news flash – WOMEN SHOP AT HOME DEPOT. Oy vey.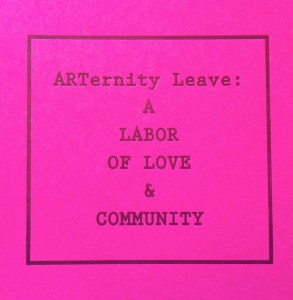 Anyways, if you are free and would like to join in on the festivities, come on by! Maybe it will even rain! If showers OF ANY SORT are not your thing, I understand. I'll see you at the swap meet.