This last week was HOT. Hot sidewalk, hot tiles, hot, hot, hot, but I made progress even with heat. Some of the highlights were getting the figs and tomato circles started. The tomato circle alone took two entire days of cutting tiny pieces of tile and two days of fitting on the wall. While I was out working on the wall, a young man rode up on his bike and yelled my name. At first I didn't recognize this man, but then I realized it was one of the kids that used to run around the neighborhood in a pack back in the day. He told me he was fresh out of prison and I commented on his tattoo of Mary (of maternal Jesus fame) and he said he got it in prison. I used to love these kids when they roamed the streets, goofing off, causing trouble, but actually looking for some sort of activity to keep them busy. I remember raising money for them to go to camp on Catalina Island and they came back full of stories about their cabins, the beach, the dark night, the food, etc. They loved it. Most of them had never left Echo Park, let alone camped on an island.
And so it was with joy in my heart, but a little sadness to see my old friend from the neighborhood on that bike before me. I gave him a hug and he said he would hook me up with some tiles cuz his friend is in construction. I hope he can stay out of the slammer for awhile. It was good seeing that little runt!
So many folks stop at the wall and chat, talk about their lives, their jobs, their ex wives, their elderly diabetic mothers, you name it. Yesterday two very nice gals walked up, one with a massive pillow on her head. They were very interested in the mosaic, so I stopped and chatted for awhile. They asked if I wanted their yoga mat and back pillow. They said they were on their way to Out of The Closet to donate the items. I gladly accepted the back pillow and boy am I glad I did. That thing is so comfortable. Thank you, kind strangers for the back support!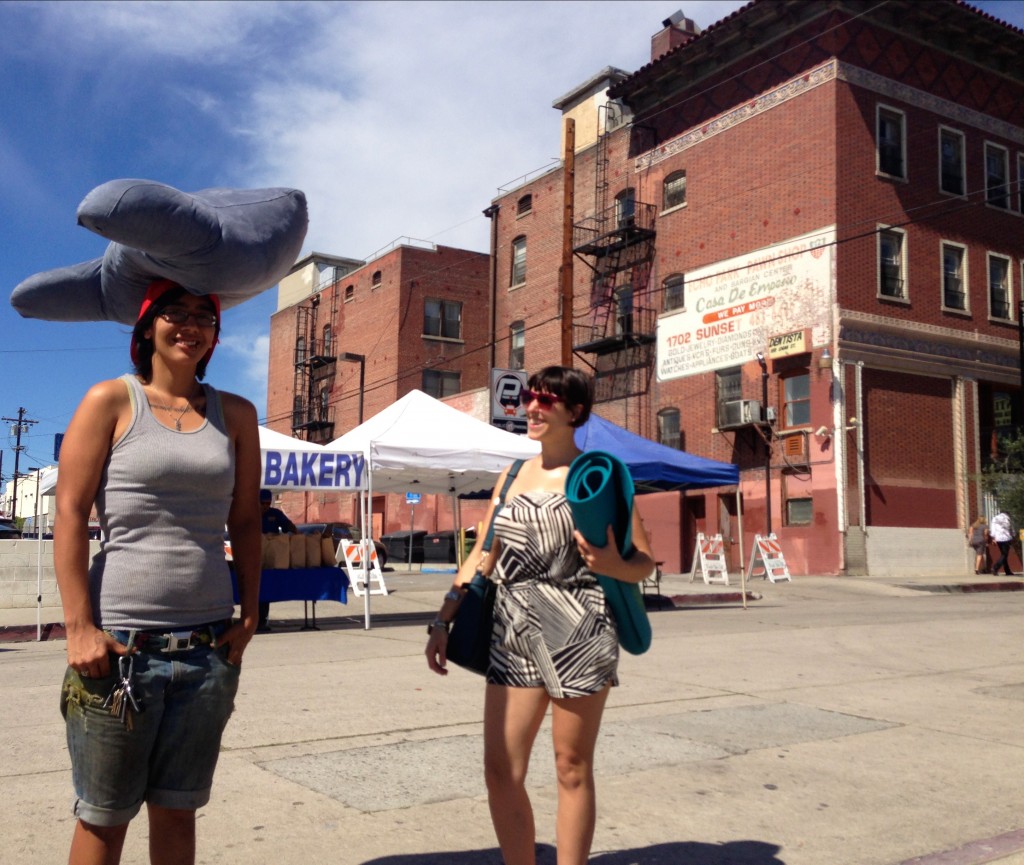 I ended the week shopping at the very farmers market I am celebrating with this mosaic. It's always inspiring to see the shapes and colors of nature's seasonal bounty. The berries alone blew my mind, not to mention the radishes and onions. All the farmers at the market are so appreciative of the mosaic and the celebration of their crops! Next week I leave for Spain to look closely at the tile work of the Alhambra in Granada and then to walk a section of the Camino de Santiago by myself for 9 days. I know I'll come back full of ideas for the wall. Just this week I was walking in downtown and came across two massive, gorgeous mosaics in the front of the Federal Building. I was moved to tears by the grace and beauty of these mosaics. I've included a few photos and feel very lucky to live in a city with such gorgeous public works outside that have withstood the test of time.