Thanks to the very generous folks that gave me Home Depot gift cards as a way of contributing to the Echo Park Farmers Market, I now have a tile cutter (if anyone ever wants to borrow it, just yell) and I have been cutting tile like mad. It is very time consuming, slow work to cut larger tiles into smaller tiles. I am working with donated tiles, so I take the larger tiles and cut them down to make them work for the mosaic. I then sand them or place them in a tumbler to smooth them out. I then piece the tiles together with the fruit/vegetable tiles and if I need more, I start the process all over again. Everything takes oodles of time so it it an exercise in patience, but I DO have the year off, so I need to just slow down and be patient and take it easy on myself. It'll get done when it gets done:) The first panel is ready to go and will be up on the wall Monday. I thought I would share some photos of the process so far, so I hope you enjoy them. A huge thank you to all the folks offering to lend a hand. I will be needing extra hands when I grout, but that is not for awhile.
Here is my very helpful husband and possessed canine helping assemble the tile cutter!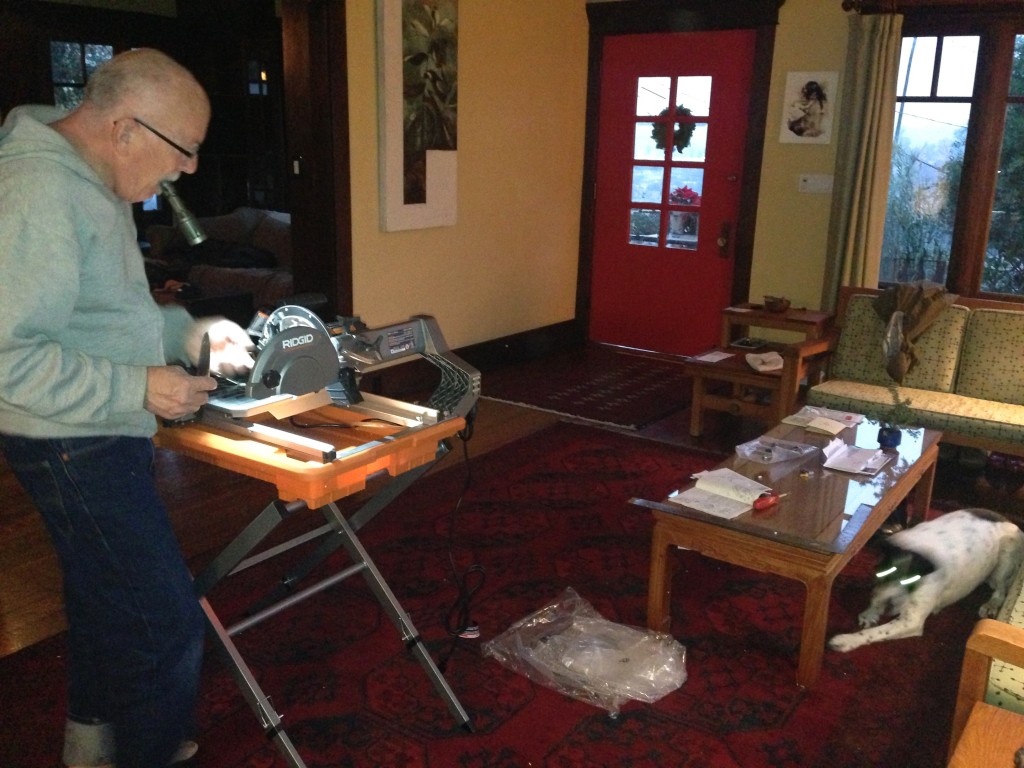 Here are a few tiles I cut in various shapes. As you can see, I have cut handles off mugs, used broken plates, and even the spout off a tea pot. Reuse! These were items that were all broken or scheduled to go to the dump.
Below is a photo of the tumbler where I toss a batch of cut and broken tiles in with sand and water and tumble them for a day until they are blunt. I love the name of the company that makes this tumbler; Thumbler's Tumbler made in the U.S.A. Fire engine red! The tiles come out with soft edges which is important for a public art piece. Here's a few tumbled pieces of tile and glass.
These tester tiles have various glazes on them to see if the colors will work. I fired a bunch of eggplants what I thought was a purple, but they came out a bright red, so I reglazed them and will get them back today to see if I got a purple. The notes are so I don't forget what I used and in what combo they were applied. These two tiles are supposed to be a deep red, but I am trying two different glaze combos. Firing tiles is also an exercise in patience. Some tiles break, some glazes don't work, some shrink, etc. Firings take many hours to fire and then cool down and you never know how they will turn out.  Fingers crossed they come out of the kiln the way I want them to. A "thank you" goes out to Sarah Simon for helping me with the firings.
Once the tiles are cut, sanded, tumbled, glazed, fired, etc.  they are laid out in many combos until I like they way they look. Here's the first panel that will be applied on Monday.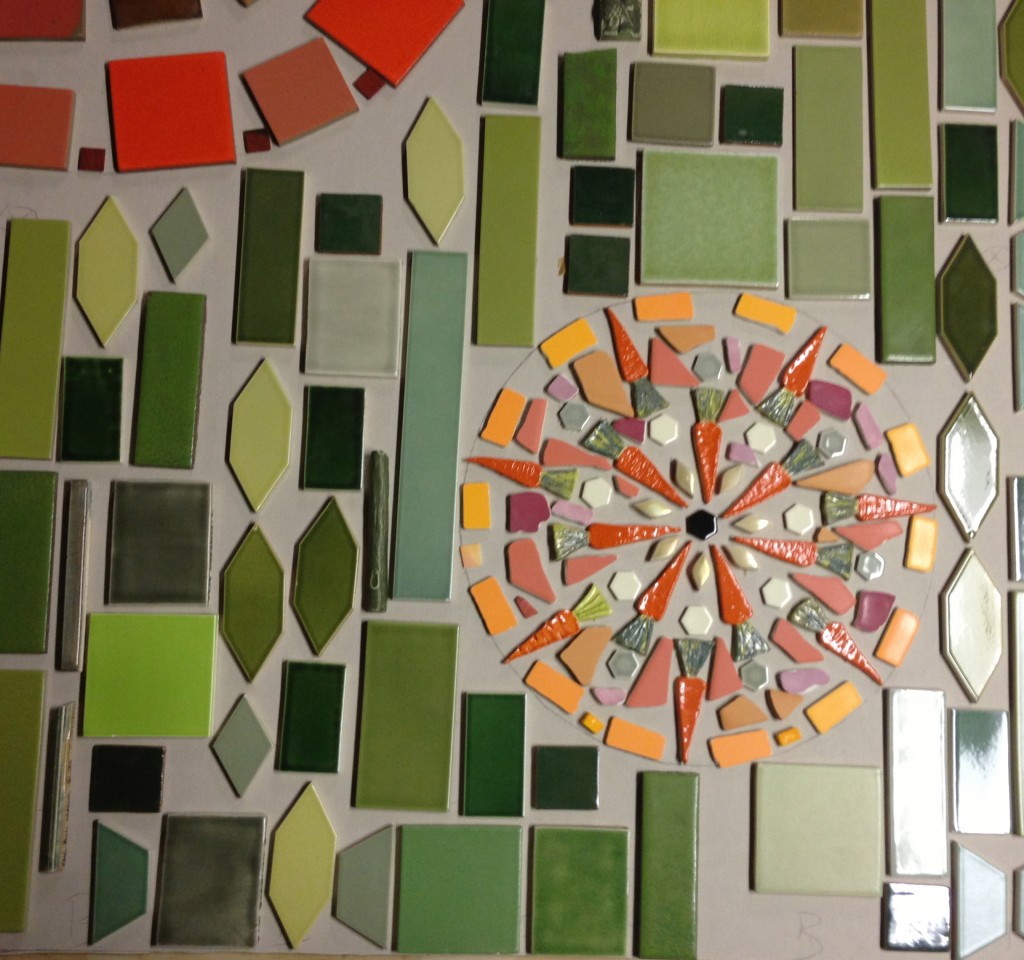 And here is a sample of me playing with various tiles. This corner will be different on the wall, but I was playing with the idea of creating an abstract sun. One of the best things about this sabbatical is having the luxury to play with the materials, try out various combinations, walk away, come back, try again. Time is such a gift.